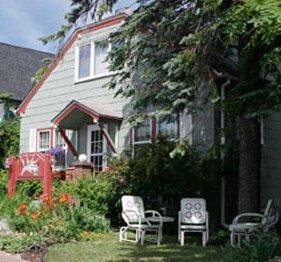 If you're looking for a place to stay while visiting Grand Marais,why not conside a stay at the ultimate guesthouse.This charming Inn is within two block of the harbor,and the downtown businesses.It's really the center of our community here on the north shore.
The rooms are spotless,and we have alot of information at the guesthouse of everything in the area.Those who spend a night,make Ella's Inn their main choice of lodging everytime they return to the Grand Marais area.When you stay here,you feel like you live here,and not only that,but you're treated as if you are part of our community.So stop by,and see for yourself why the Antler Inn is the best place to stay while visiting Grand Marais.
Our focus is to provide our guests an "at home" feeling with clean and comfortable accomodations at a value price. A fully equiped kitchen, living room, dining room, three bathrooms and five bedrooms allow you to make Ella's Inn your home away from home.
Please give us a call.We'd love to hear from you!
118 3rd Avenue W
Grand Marais, MN 55604
Phone: (218) 387-3131